Presently, WooCoomerce is the biggest e-commerce platform. You don't need to have the technical knowledge to handle a must-have Plugin or to run an online shop. There are essential plugin and extension which are available in the store. In this post, we will discuss the Best Free WooCommerce Plugins.
Best Free WooCommerce Plugins
Are you searching for free WooCommerce Plugins?
Is your online shop not giving the desired performance and ROI?
In this article, we will give you some awesome tips to boost your online store. We will also recommend some of the must-have WooCommerce Plugins for free to make an incredible online store.
You need to think like a customer if you want to run an online store. You should identify and add the features which engage customers in your shop.
Features of WooCommerce Store
You need to have the best features to run an eCommerce store. These features are included or added by the various essential plugin in the market.
Before you jump in to install these plugins, you need to know what is the purpose to add a specific plugin. Features can either be added to boost your sales or to customize your store.
All things considered, these are the features that help to boost the WooCommerce store:
Contests and Giveaways.
Customer Reviews for your product or service.
Product Import/Export facility.
Product Search/Filter/Slider/Sort features.
Live interaction features with the customers.
Multiple Currency/Language facilitated store.
Waitlist for products.
Best Marketing Solutions.
Better Payment Alternatives.
Shipping and Tracking.
Store Management.
Customizable WooCommerce Store.
All these features can be added to your store if you check out some of the Best WooCommerce Plugins that we have listed below:
Best Free WooCommerce Plugin for Customer Service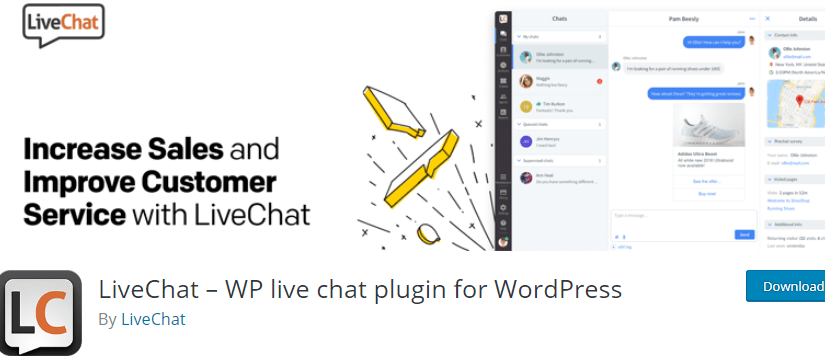 What if your customers leave their carts before completing the purchase?
Customers seek instant answers to their queries. LiveChat is the best alternative software to interact live with the users.
You can add free plugins like LiveChat to your store and respond to the questions of users. As a result, it helps to convert users to customers.
Key Features:
Mobile Responsive
Increase in Sales
Build Stronger Customer Relationships
Integration with email marketing services and marketing automation software
Feedback Collection
Best Free WooCommerce Plugin for Store Management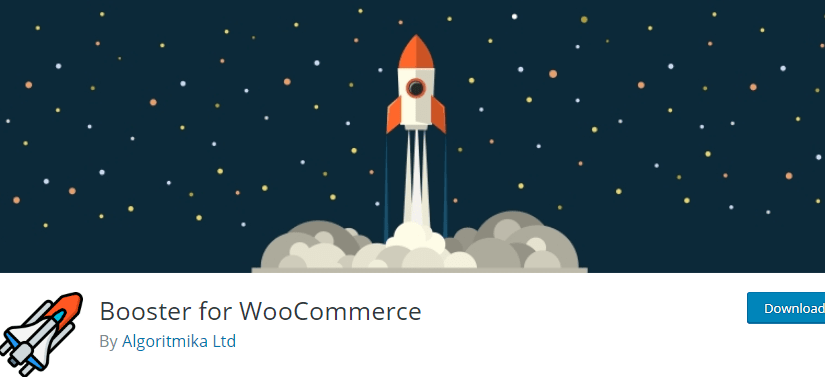 It is not only limited to currencies but also other powerful and rich features. Booster for WooCommerce will not only add more varieties in your online shop but also increase user engagements.
The long list of features includes product add-ons, cards and checkouts, custom payment gateways, gateway currency and fees, custom orders and shipping, PDS invoicing, VAT number validation, custom emails, packing slips and much more.
It handles major of the things to make the online shop popular having satisfied customers. It has a ton of key features so it is one of the best free WooCommerce plugins.
Key Features:
Bulk Price Converter
Must-Have Plugin for URL Coupons
Currency Exchange rates
Checkout Customization
Reduces the use of other plugins
Best Free WooCommerce Plugin for Internationalization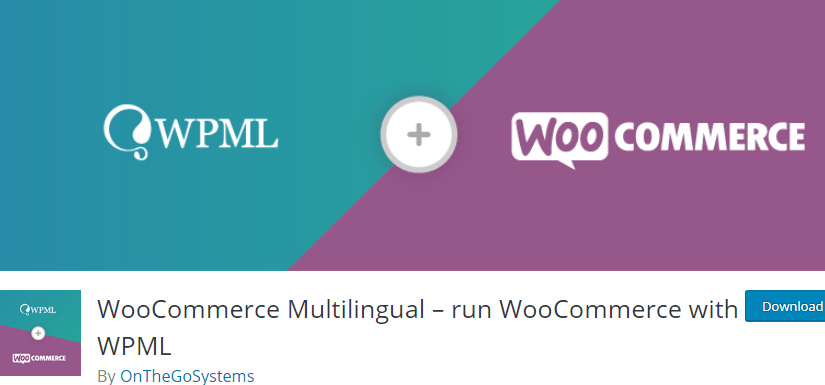 Are you only offering the English language to your customers?
A study suggests that adding multiple languages to your store increases the overall amount of sales and interaction in the site.
WooCommerce Multilingual is an essential plugin that helps to run an online store with several languages and currencies. You do not have to hire a translator when you install it.
It makes a big difference when you to translate WooCommerce pages and products in multiple languages. Customers will be comfortable to browse the website in their desired language.
Key Features:
Translate texts during checkout
Translate WooCommerce products, variations, and store emails
SEO friendly in multiple languages
Sets price and Collect payments in multiple languages
Compatible with WooCommerce extensions and themes
Best Free WooCommerce Plugins for Payment, Pricing & Currency

Among the various payment options, Stripe allows users to pay with Amazon. If your customer has their card linked with amazon then they can use stripe without the need to re-enter information on stripe enabled website.
Undoubtedly, card payment is a must on e-Commerce based sites. You will make it easier for your customers with Stripe. The customers stay on your website during checkout with stripe resulting in higher conversion rates.
It is a must-have plugin that accepts all major credit cards, debit cards and local payment methods on your store. Eventually, the customers have the best user experience.
Key Features:
No setup fees
An SCA-ready solution
Powerful Payment Options
Easy Monitoring and Reporting
Advanced Fraud Protection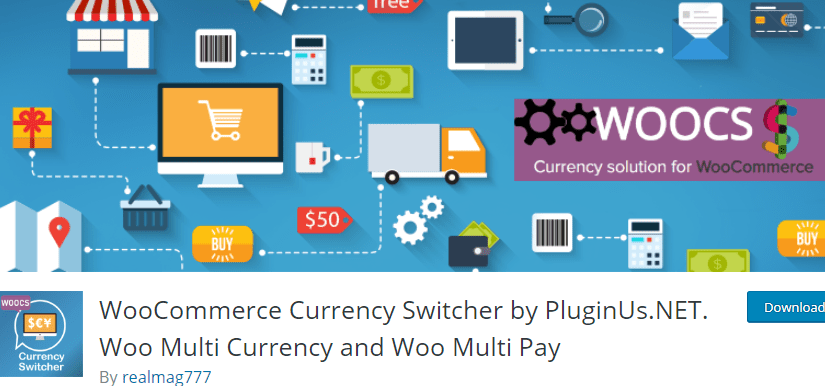 Currency Switcher plugin helps users to switch currency and compare the rates with local currency or any other currency in real-time. A shopper prefers to know the price in local currency before buying the product.
The free version allows two currencies at a time. This may appear restrictive. You can use a global currency (USD/EUR) as one of the currency in such a case. Nevertheless, the premium version unlocks all the currency.
Every online store should have this feature.
Key Features:
Comparision with local currency
Boost your sales
Easy Shortcode to add the widget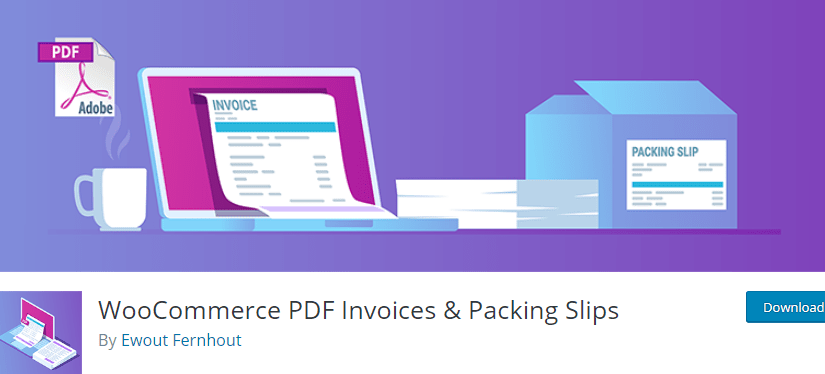 This is an essential plugin that allows you to send PDF invoices to the order confirmation mail. Shortly, users will have an option to download invoices from the account area.
The store owner can both generate and download PDF invoices and packing slips in bulk.
Key Features:
Fully Customizable
Must-Have plugin to generate PDF invoices/packing slips in bulk
Sequential invoice numbers
Best Free WooCommerce Plugins for Product Page Customization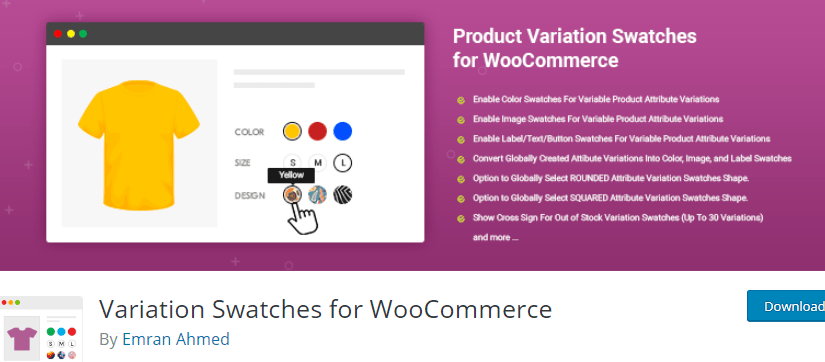 WooCommerce Variation Swatches help shoppers to understand what you offer. It is one of the best free WooCommerce plugins which allows you to create different visual representations of various products in your store.
If you have a product in a different color, then it lets you display icons in actual colors.
Isn't it better than just displaying the name of the colors?
Also, you can add your own custom images as a variation swatch for different products. This is useful if you have different materials for a common product.
When you have a lot of variable products at your store, this is an essential plugin that gives your store a user-friendly look.
Key Features:
Enable Colour/Image/Button Swatches
Show/Blur/Hide For Out of Stock Variation swatches
Compatible with different page builders and plugins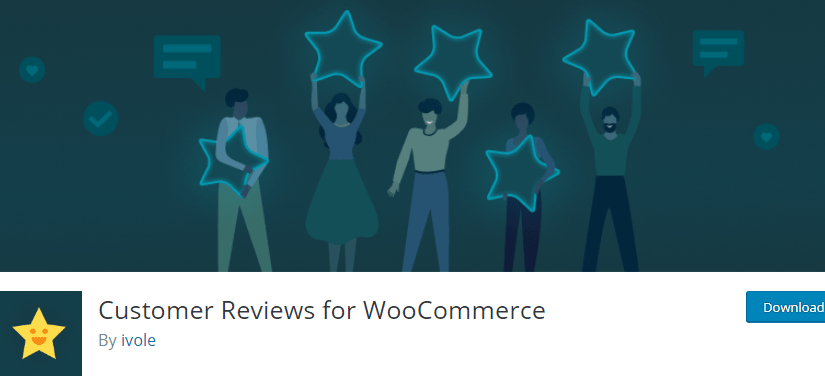 To ask the reviews of the product from your recent customer, Customer Reviews is a must-have plugin that sends the automatic reminder to them.
Likewise, it helps the customers to return to your store which in turn improves the conversion rate.
Key Features:
Filter Review by rating
Review Summary on the product page
Add pictures with reviews
Discount Coupons for Reviewers
Adds reCAPTCHA to prevent spam reviews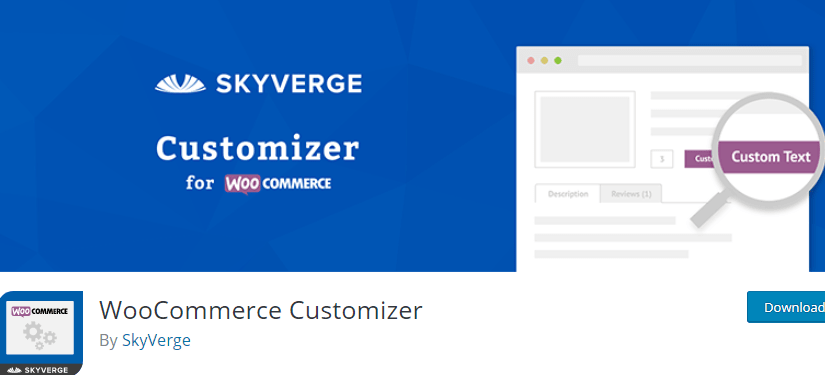 Customizer is a GUI built-in essential plugin for WooCommerce filter. These filter helps you to customize fields, button text, labels, etc.
It adds a simple settings page where you can both customize and save them. Itis one of the best free WooCommerce plugins that eliminates the necessity to write PHP code to customize the filters.
Key Features:
Placeholder Image Source
Tax Label text
Heading Text Customization
Checkout Page Customization
Number of Products displayed per page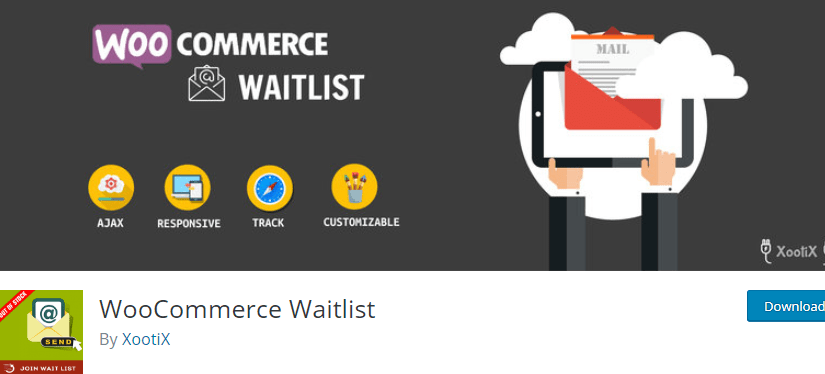 If a customer returns without buying a product from your store, then you potentially lost them.
This is one of the best free WooCommerce Plugins to add a product waitlist feature when you are out of stock.
Additionally, this alerts the consumers when the items are back in stock.
Key Features:
Maintains a record of users
Identify most wanted products
Plug and Play functionality
Manages your waitlists
Also, notify customers when an item is back in store
Best Free WooCommerce Plugins for Marketing

It is one of the best free WooCommerce plugins for marketing and sales. Further, Beeketing helps to improve the conversion rates with automated email marketing, sales notification, and checkout boost.
With already more than 10+ built-in features, the tools and features are being updated on a timely basis. This is the must-have plugin for eCommerce websites.
Key Features:
Increases Average Order Value
Prevents and Recovers Abandoned Carts
Seamless Integration
Focus on analytics
Responsive UI/UXRetain Loyal Customers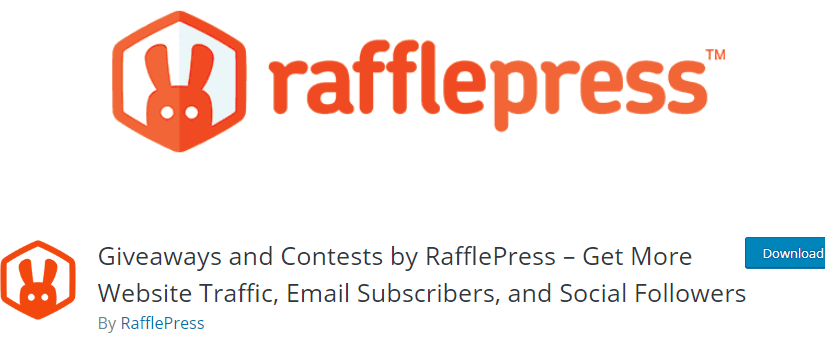 This is an essential plugin that grows your email list by increasing engagement with your brand. RafflePress is one of the best free WooCommerce plugins for contests and giveaways.
You can arrange multiple contests to perform different social actions like sharing content, watching a video, following a social media profile, signing up for the newsletter and many more.
In addition, RafflePress has a drag and drop builder. So, the giveaways are attention-seeking. It is integrated with different email marketing services and social media platforms.
Key Features:
Fraud Protection
Distraction-free Landing pages
Drag and Drop Builder
Social Logins
Generate Sales and Increase Leads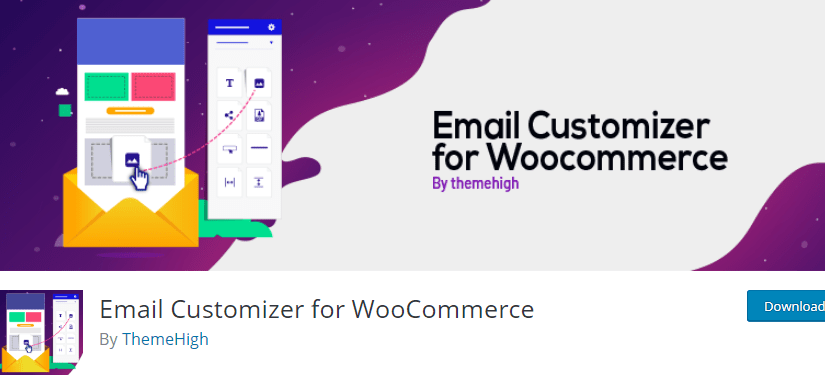 A professional-looking email is clickable by the customers. Specifically, Email customizer allows you to change the colors, header and footer format, styles, etc. as per your requirements.
Moreover, there is an option to preview the emails before sending them.
Key Features:
Easy customization
Preview available
Increases Conversion Rate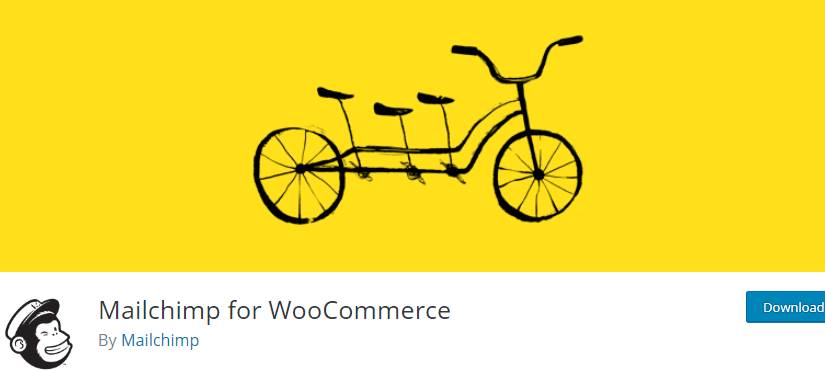 It is an official plugin for Mailchimp integration. Mailchimp for WooCommerce is a must-have plugin that helps to sink your customer's data in your Mailchimp account.
As a result, you can generate more sales from the lead you generate.
Key Features:
Sync Audience and purchase data
Must-Have Plugin for Marketing Automations
Showcase Product recommendations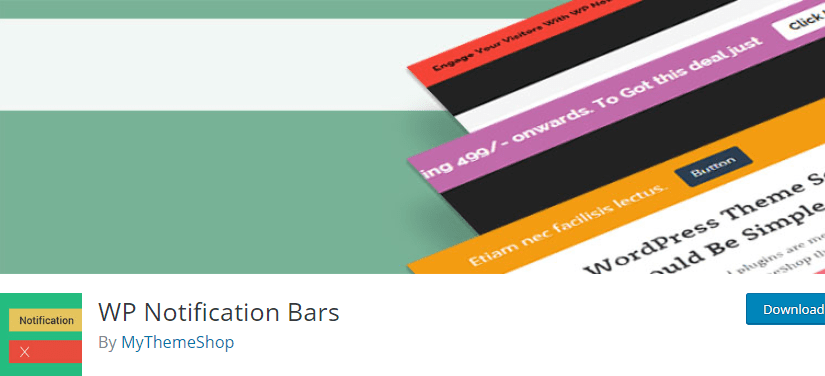 It is among the best free WooCommerce plugins to make an attractive custom notification and alert bar. Obviously, it's beneficial to announce something important.
You can set both the notifications and color of the notification bar to blend perfectly with the theme. The bar can be shown or hidden as per your requirements.
It can help you to manage marketing promotions. Not only, it grows the audience but also it helps to grow your email list.
Key Features:
Unlimited Notification Bars
Multiple Notification Types
18 Social Services Included
Custom HTML Support
Unlimited Colors
Best Free WooCommerce Plugin for Shipping & Tracking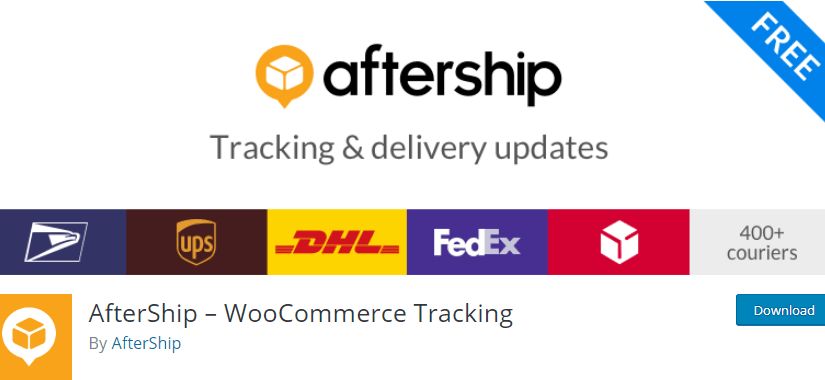 You can setup WooCommerce to track your products with the help of free plugins like WooCommerce Aftership. This is one of the best free WooCommerce plugins for shop owners as it allows you to input and displays the tracking number for your customers.
Thereafter the tracking is added to the customer emails and order history page.
Finally it auto imports your products to Aftership. In addition to this, the premium version provides status emails as well as SMS text messages to the customers.
Key Features:
An essential plugin for Branded Tracking Page
Track All Shipments in one place.
Support 550+ International Courier.
Display Tracking info at the order history page.
Top Shipment Tracking plugin.
Best Free WooCommerce Plugins for Added Product Features
WooCommerce Product Import Export helps you to manage online store by saving your time. It allows you to import or export simple products in CSV format.
Sometimes you need to send your product details, then the export feature is useful. You can both update products and bulk upload in your WooCommerce store with free plugins.
It lessens the manual edit to enter data in the products.
Key Features:
Compatible with the latest version of WooCommerce
Export Simple Products into a CSV file
Import Simple products in CSV format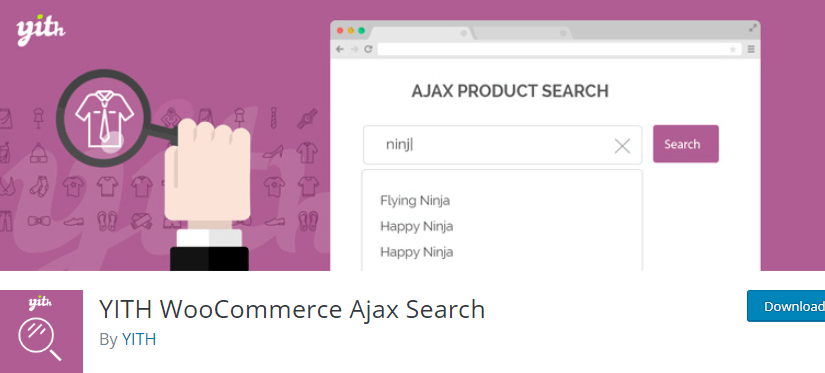 Ajax Search is among the best free WooCommerce plugins to offer an improved search feature to display the desired products.
Not only Ajax delivers the result but also users will be able to search the results without leaving the current page. In reality, the increase in speed in any online store increases user engagement and decreases cart abandonment.
Key Features:
Essential Plugin for Customization of WooCommerce Search
Display of WooCommerce Search
Additional features in Premium version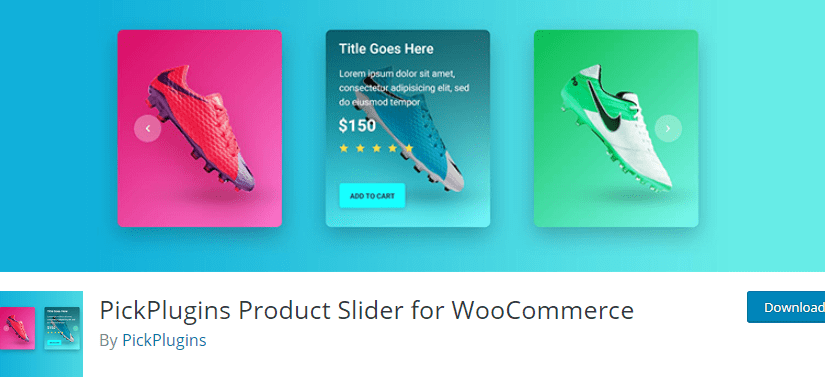 The customers will experience sliding of products if you have activated the must-have plugin, Products Slider.
Due to the widget support, you can display it in the sidebar or footer widget easily. Sliders are both mobile friendly and fully responsive.
Key Features:
Filter Slider Content
Unlimited Slider anywhere
20 Ready Ribbons & Custom Ribbons
3 Ready Themes
Custom Color and Font Size
Fully Responsive and Mobile Ready.
Product Filter is one of the best free WooCommerce plugins that allows the filtering of unwanted products from the online shop.
It is particularly useful when browsing in your store becomes difficult as it grows big. This will help the customers to find the desired products faster.
You can create and save both custom filters and different presets. As a result, the site will be efficient which results in better customer experience and improve sales.
Key Features:
Full Customization
Range Filters
Easy Plugin Integration
Filter Analytics
Translation Ready and full WPML Ready
Wrapping Up:
In conclusion, these are one of the best WooCommerce plugins suited for an eCommerce store. Still, there are many free plugins available in the market. If you think that we missed some of them, then you may kindly comment or suggest us on this post. Our reviewers will act accordingly after verification. Thanks!