No matter how much traffic you have, you will never get satisfied with it. This is because you always want to grow online. The competition is becoming tough day by day. Learn how to increase website traffic on Google from the very basic ways. If you start looking at the advanced options without knowing the simple ways, you will be in the middle of nowhere.
Website traffic is both an essential driver for online business growth. It can help you to:
Understand the performance of the applied marketing strategies.
Gather insights about your target audience to make better decisions.
Improve your SEO and search engine reliability.
Generate more leads, improve conversions, and get more customers.
To achieve these advantages is only possible when you drive traffic to your website in the right way and focus mainly on quality traffic. There are different paid ways like PPC to run the ads in Google to reach the targeted audience. PPC i.e. Pay Per Click can be done in different social media as well as for Google Search. However, in this post, we'll be discussing free ways to drive traffic to your website:
How to increase website traffic on Google – Free Methods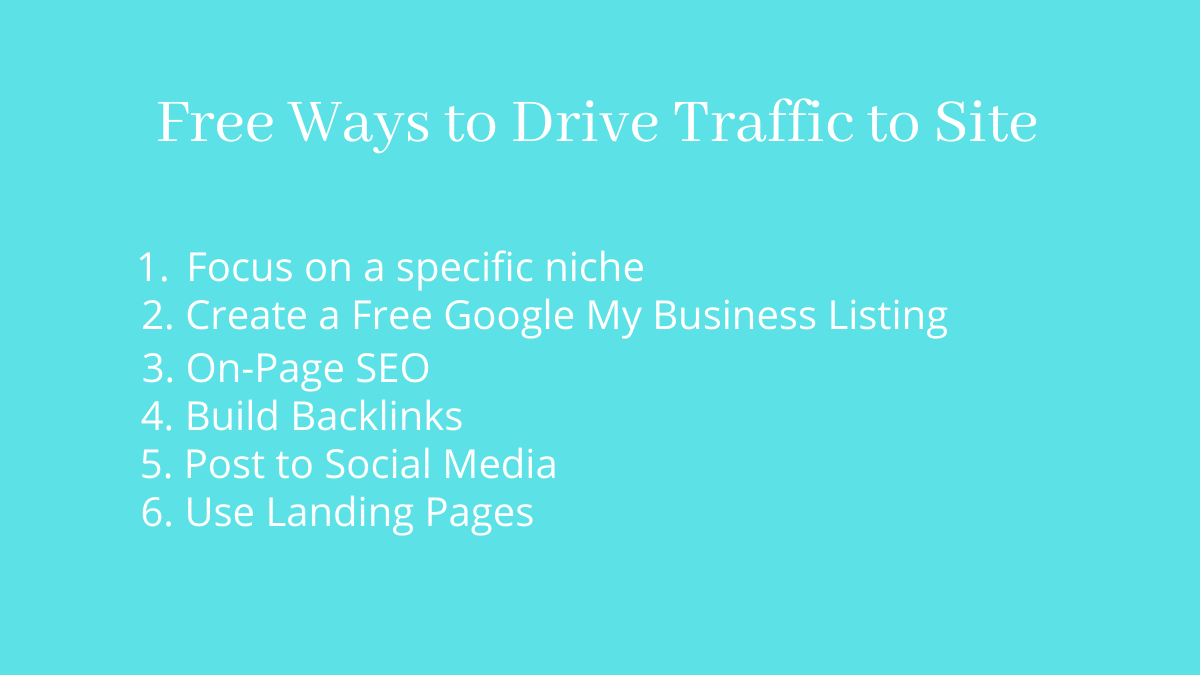 Focus on a Specific Niche
If your website is focused on a specific audience, then there is a high rate of success when you get desired traffic. When the targeted audience visits the website, they will find the website to be interesting rather than if you have a general website.  
Create a Free Google My Business Listing
Are you aware of the fact that an optimized Google My Business listing gets seven times more visits than a half-done one?
Remember that you're listing links to your website, so this is a great way to drive more traffic to your website.
However, it would be best if you keep in mind that Google is becoming wiser with the results. If your listing includes all of the information required for a potential customer to make a purchasing decision, they might forego your website and share details on the contact us page directly.
On-Page SEO
There are many SEO techniques you can perform on your website pages to increase their rank in search engines and get more visitors. This involves generating high-quality content for your target audience and writing crisp and short Meta descriptions for your pages. On-page SEO tactics such as these mentioned-above are free but do your homework well.
Build Backlinks
A backlink is a link to your website from another credible website. Backlinks from mutual businesses or industry influencers will not only enhance your brand awareness, but it will also drive adequate traffic to your website. Also, Google picks up on backlinks and will improve its trust in your business if it detects other trusted sites leading to yours. More confidence from Google leads to higher rankings, which leads to more traffic.
Post to Social Media
Social media is one of the most powerful as well as free marketing tools. It plays a vital role in driving traffic to your website. Use Facebook, LinkedIn, and Instagram to promote blog posts or other useful pages of your website. In this way, you can convert your social media audience into website visitors, and entice traffic from their networks if you post shareable content.
Use Landing Pages
Landing pages are major free source driving traffic to your website. These are pages particular to your offers, such as downloading a free guide, redeeming a discount, or a free trial. They consist of all the details that users need to move forward and convert. Thus, it is important to focus on the call to action to make things happen. Because landing pages are so specific, you can get much targeted in your messaging, improving the traffic coming to those pages.
Conclusion
Getting more website visitors is not a one night show. You need to invest some time and effort, but we've removed the tough part for you. We know what to do in the first place. Hopefully, now you learned how to increase website traffic on Google.
Additional Readings